​Global Connectivity: The Benefits
Why is Global Research and Education Connectivity so Important?
GÉANT connects the research and education communities in 40 European countries to each other and through GÉANT's global links to the R&E communities in a further 65 countries outside Europe, in regions as diverse as North America, Latin America, the Caribbean, North Africa and the Middle East, Sub-Saharan Africa, the South Caucasus, Central Asia and the Asia-Pacific region.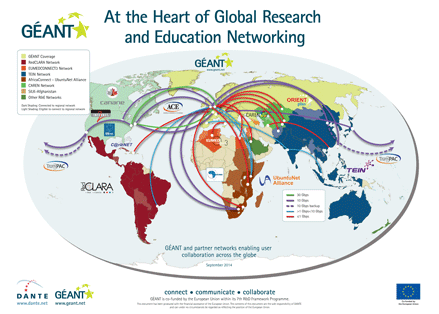 The GÉANT Global Connectivity Map shows how the European Research and Education community is connected to R&E networks in the rest of the world.
By working with its global partners to maintain and upgrade these links in line with demand, global research and education collaborations are able to benefit from the same advantages enjoyed by European end users:
Reliable, high-bandwidth connectivity for research and education communities, with defined and predictable speeds and quality of service.
Greater speeds, timely delivery, and very high levels of resilience, enabling researchers, teachers and students to benefit fully from advanced data-sharing techniques and collaboration tools.
Better collaboration and integration within and between geographically distributed research and education communities.
Networks which are dedicated to meeting the needs of the academic and research communities.
No usage charges once institution is connected.
Collaboration between GÉANT and its global partners in areas of common interest to provide services which benefit the end users in many ways, including network performance monitoring and problem-solving, dedicated on-demand bandwidth, connectivity roaming and single-sign-on services. To learn more about GÉANT's global collaborations on end user services, visit the Global Service Collaboration page.
Who Uses Global Research Education Connectivity?
The uses of GÉANT's global connectivity are wide and varied. Below are some examples of some of the larger user groups and applications which benefit from the global R&E networking infrastructure.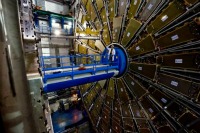 Big Science (e.g. the Large Hadron Collider and radio astronomy)
e-Health and the Biomedical Sciences
e-Learning (with benefits to teachers, lecturers and students)
Telemedicine
Environmental monitoring
Disaster warning and recovery
The Arts
To learn more about specific uses of GÉANT's global connectivity in these areas, visit the Global Users and Applications page.
How does a National Research and Education Network fit into the Global R&E Network?
Within a country, a national research and education network (NREN) links together some or all of the universities, research institutions, schools, hospitals and museums.
NRENs join together to form regional R&E networks.
Regional R&E networks are connected together to create a global research and education networking infrastructure
Global Focus
GÉANT's global connectivity benefits researchers, academics and students both in Europe and in other regions of the world. The Global Focus page features interviews which highlight the value of global interconnectivity and collaboration with GÉANT.
Click here to visit the Global Focus page.