​Supporting nuclear fusion energy research
GÉANT is essential link in search for clean, sustainable energy
​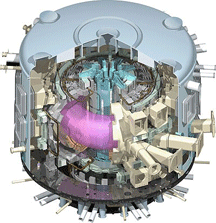 ITER machine. ITER IO copyright.
GÉANT is providing data links to the International Fusion Energy Research Centre (IFERC) in Rokkasho, Japan. IFERC hosts the Helios supercomputer, a system with a compute power exceeding 1 PFlops and attached to a storage capacity of 50 PB. The Helios supercomputer is provided and operated by the French Alternative Energies and Atomic Energy Commission (CEA), France and is a Fusion for Energy (F4E) resource. GÉANT is supplying a 10Gbps (10 Gigabits per second) link to connect Helios with scientists involved in ITER and DEMO, the demonstration fusion reactor which is considered the follow-on project* of ITER.
It is hoped, after the first fusion plasmas of ITER in Cadarache, France, planned for 2020 and beyond, that DEMO, an industrial demonstration fusion reactor, will lead to full-scale fusion energy reaching the commercial market in the second half of the century.
For more information, please see: GÉANT paves data highway for nuclear fusion energy research
See also: ITER www.iter.org