​Global Connectivity
Connecting research communities across the world
GÉANT Global Connectivity Map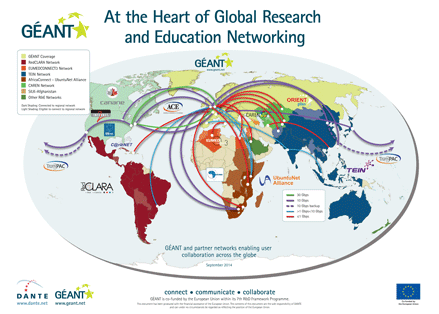 Research today is a global activity and GÉANT continues to extend its worldwide connectivity for the benefit of the entire European research community. Research on this scale is becoming increasingly important for many worldwide issues. European researchers in fields such as seismology, particle physics, weather forecasting and climate change need to be able to work more closely than ever before with their global counterparts.
The exchange of knowledge is of great importance in the modern world, helping communities around the globe to understand and share ideas on the latest developments and best practices in their fields. Universities with campuses in different countries also need to be able to guarantee connectivity between their different sites.
In addition to its pan-European reach, the GÉANT network has extensive links to networks in other world regions including North America, Latin America, the Caribbean, North Africa and the Middle East, Southern and Eastern Africa, the Eastern Partnership, Central Asia and the Asia-Pacific Region. Work is also on-going to connect to Western and Central Africa.
Consequently GÉANT's extensive geographical reach enables European researchers to share huge quantities of data and collaborate effectively with their peers throughout the world, whilst also providing the infrastructure essential to support global educational activities, regardless of distance or location.
Learn more about connectivity to other world regions by using the links above or clicking here.
Learn more about the benefits of GÉANT's Global Connectivity (including what makes it stand out from the commercial internet; who uses it; how national, regional and global R&E connectivity fits together), by clicking here.
For queries about national, regional or global connectivity, find out who to contact by clicking here.
Global Service Collaboration
The increasingly global nature of research and education means that services which are available to researchers and academics in Europe are of interest to research projects with participants in other world regions. In order to meet this need, the GÉANT community collaborates with its global Research and Education Networking partners around the world on issues of common interest to provide interoperable services which benefit end user collaborations. Click here to learn more about how GÉANT collaborates with its global partners on end user services.
Global Connectivity Benefits Communities Worldwide
As well supporting the connectivity needs of big science, GÉANT's global reach also benefits projects of social benefit including e-health, e-learning and the arts and humanities, thereby having a direct positive impact on the lives of people all around the world. To learn more about some of these stories visit the Users and Applications page.