GÉANT and neuGRID - enabling early diagnosis of neuro-degenerative diseases
The Challenge
Finding a cure to the neuro-degenerative Alzheimer's disease is a key priority for the medical profession. With the incidence of Alzheimer's growing due to an aging population the disease not only affects the quality of life for patients and their carers,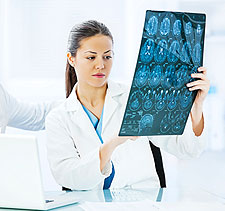 but increases associated social costs such as medical treatment and hospitalisation.  The challenge is to provide access to, and enable analysis of, large amounts of medical patient data, speeding up research and drug development and ultimately improving patient quality of life.
The Solution
The main objective of the neuGRID project is to provide clinical research centres on Alzheimer's disease with three key elements to help identify markers around the disease: powerful computing resources; sophisticated algorithms to process brain images and remote access to large databases of brain images held in different locations worldwide.  Thanks to the European GÉANT network and its partner European National Research and Education Networks (NRENs)  major improvements in processing times when analysing medical data, delivers results in days rather than years.
Key Benefits
neuGRID is able to process the world's largest Alzheimer's disease imaging database  in ten days – instead of five years – dramatically reducing the time needed for analysis and consequently speeding up research efforts.  This enables neuroscientists to identify neuro-degenerative disease markers faster and consequently reduce drug development times, benefiting patients and reducing associated social costs. 
​Provincia Lombardo-Veneta – Fatebenefratelli (Italy)
Prodema Informatics AG (Switzerland)
University of the West of England (UK)
Maat G Knowledge SL (Spain)
VU University Medical Centre (Netherlands)
Karolinska Institutet (Sweden)
HealthGrid (France)
CF Consulting Finanziamenti Unione Europea s.r.l. (Italy)