GÉANT and PAGASA - Saving lives by typhoon forecasting
The Challenge
In countries such as the Philippines, typhoons and tropical cyclones are a major threat to life and property. For example the landfall of Typhoon Uring in 1991 led to over 9,000 casualties, as well as widespread destruction of infrastructure and communications. The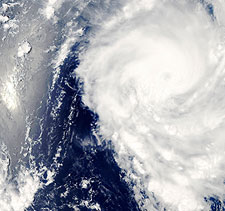 only way to minimise the impact of typhoons is by preparing for their arrival and evacuating people. This relies on having accurate and quickly communicated storm forecasts that enable sufficient time for disaster warning plans to be put into operation. 
The Solution
The stable, high speed network connections provided by GÉANT and its partner networks deliver a high capacity platform for the fast transmission of vast amounts of real-time weather forecasting data between Germany and the Philippines. To ensure storm forecasts are as exact as possible, the Philippine weather bureau PAGASA collaborates closely with its German counterpart DWD, which provides an accurate, real-time flow of meteorological data to drive PAGASA's forecasting.
Key Benefits
In 2009, Typhoon Emong struck the Philippine town of Bolinao. Despite being much stronger than Typhoon Uring 18 years earlier the impact was mercifully much smaller, with 126 casualties. The collaboration between the weather bureaux of the Philippines and Germany across high capacity research networks delivers highly accurate real time meteorological data that enables more detailed typhoon forecasting and crucially more time to prepare for their impact.