GÉANT's terabit upgrade gives European science the data network of the future
Cambridge, UK | 31 July 2013
50 million users of Europe's critical data communications infrastructure to benefit from increased capacity, faster service provision and self-healing resiliency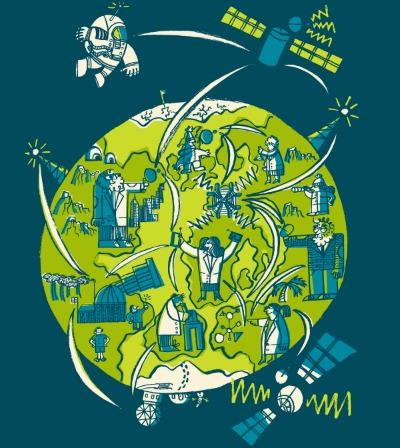 DANTE today announced the completion of a major network upgrade to GÉANT, the superfast pan-European data communications infrastructure that interconnects National Research and Education Networks (NRENs). GÉANT is relied on by more than 50 million of Europe's research and education users and this 2Tbps (terabits per second) upgrade is set to further boost the research, innovation and education that is driving Europe's recovery.
Leading edge technology will also ensure greater flexibility and faster provisioning of service, meaning new circuits can be 'switched on' within the hour. In addition the innovative option of 'on-demand' services accommodating short-burst transmission of large data sets can now be offered across the GÉANT backbone.
Finally, increased resilience and the network's ability to 'self-heal' guarantees continuous service even in the unlikely event of faults occurring on part of the network – meaning the assured transfer of time-sensitive critical data and further building on GÉANT's reputation of speed, flexibility and resilience.
Why does Europe need a terabit network?
Already over 1,000 terabytes of data passes through GÉANT's IP backbone each day, much of it linked to some of the most advanced and far-reaching research being carried out anywhere in the world. However, the creation and sharing of research data is increasing exponentially, impacting research networks, high performance computing and grids – collectively known as e-infrastructures.
Many major projects involving global partners, such as CERN's Large Hadron Collider (LHC), the forthcoming Square Kilometre Array (the world's largest radio telescope), and many bioinformatics projects generate massive amounts of data that need to be distributed, analysed, stored and accessed. This need for fast, stable transfer of data depends heavily on the high speed and dedicated bandwidth offered by research networks such as GÉANT and the need for a terabit network is growing every day.
The GÉANT network continues to provide the essential bandwidth to support all scientific disciplines: from high-energy physics and deep space research to those addressing societal challenges such as ageing populations, disease diagnosis and climate change.
Further press information:
Paul Maurice/Tamsin Henderson
DANTE
paul.maurice@dante.net 
tamsin.henderson@dante.net
Tel: +44 1223 371300
​About GÉANT
GÉANT is the pan-European research and education network that interconnects Europe's National Research and Education Networks (NRENs). Together we connect over 50 million users at 10,000 institutions across Europe, supporting research in areas such as energy, the environment, space and medicine.
Operating at speeds of up to 500Gbps and reaching over 100 national networks worldwide, GÉANT remains the largest and most advanced research and education network in the world.
Co-funded by the European Commission under the EU's 7th Research and Development Framework Programme, GÉANT is a flagship e-Infrastructure key to achieving the European Research Area – a seamless and open European space for online research – and assuring world-leading connectivity between Europe and the rest of the world in support of global research collaborations.
The network and associated services comprise the GÉANT project (GN3plus), a collaborative effort comprising 40 project partners: 37 European NRENs, DANTE, TERENA and NORDUnet (representing the 5 Nordic countries), and 30 Open Call project partners. GÉANT is operated by DANTE on behalf of Europe's NRENs.
​About DANTE
DANTE (Delivery of Advanced Network Technology to Europe) is a non-profit organisation established in 1993 that plans, builds and operates large scale, advanced networks for research and education. On behalf of Europe's National Research and Education Networks (NRENs), DANTE has built and operates GÉANT, a flagship e-Infrastructure key to achieving the European Research Area.
Working in cooperation with the European Commission and in close partnership with Europe's NRENs and international networking partners, DANTE remains fundamental to the success of global research collaboration.
DANTE manages research and education (R&E) networking projects serving Europe (GÉANT), the Mediterranean (EUMEDCONNECT), Sub-Saharan Africa (AfricaConnect), Central Asia (CAREN) regions and coordinates Europe-China collaboration (ORIENTplus). DANTE also supports R&E networking organisations in Latin America (RedCLARA), Caribbean (CKLN) and Asia-Pacific (TEIN*CC).
For more information, visit www.dante.net